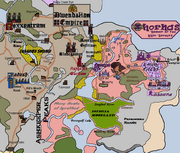 The
Ashguard Garrison
is an outpost guarding the frontier of the
Dwendalian Empire
against incursions from
Xhorhas
. It guards the passages on the south side of the
Brokenveil Bluffs
, and the
Rockguard Garrison
guards the north side. Since there were over 1,000 deaths when this garrison fell to the
Kryn Dynasty
, it must have held at least this many troops.
[1]
The Dwendalian Empire attempted to attack the Dynasty-held garrison with three legions[2] after sending the Scourgers to strategically assassinate members of the Dynasty as a distraction, but Jester overheard King Dwendal give these orders while she was Scrying on Vence Nuthaleus,[3] and the Mighty Nein warned the Kryn of the impending assault.[4] Eight days later, Leylas Kryn thanked the Mighty Nein because their warning saved many lives on the Dynasty side,[5] and Dairon reported that the unsuccessful attempts to regain the garrison cost many lives on the Empire side.[6] More than a month later, the Empire did retake the garrison, at the cost of many more lives.[7]
DemographicsEdit
The Ashguard Garrison has a population of 5,720. When the stronghold was held by forces of the Kryn Dynasty, 74% of the population consisted of dark elves (drow) while the other 26% were other races.[8]
ReferencesEdit
Community content is available under
CC-BY-SA
unless otherwise noted.