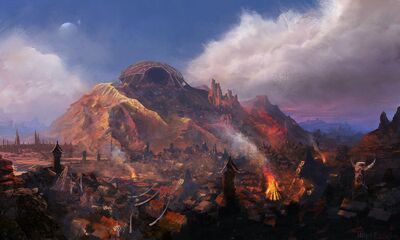 Asarius
, also known as the "City of Beasts", is a mid-sized city near the western side of
Xhorhas
. (See map below.) It is part of the domains of the
Kryn Dynasty
, which has its headquarters on the other (eastern) side of Xhorhas in
Rosohna
.
City DescriptionEdit
DemographicsEdit
Asarius is very diverse with populations of bugbears, kobolds, gnolls, goblins, orcs, minotaurs, drow, and few humans.
Notable PeopleEdit
Kryn Dynasty soldiers and members, as well as some inhabitants of Asarius, worship the Luxon.
Points of InterestEdit
BackgroundEdit
References Edit
Art:
Community content is available under
CC-BY-SA
unless otherwise noted.