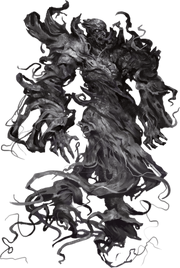 Allips
were undead creatures. They were created when someone learned knowledge that a powerful being protected.
AppearanceEdit
Allips were warped, spectral versions of their living selves. Their lower body trailed into a dark fog instead of legs.[1]
AbilitiesEdit
Damage Vulnerabilities:[5]radiant damage.
Senses: Darkvision
Attacks:

Maddening Touch:[2] Melee spell attack that deals psychic damage.

Whispers of Madness:[9] Allip chooses 3 creatures and deals psychic damage.
Howling Babble:[2] Every creature within 30 feet has to make a saving throw or take psychic damage and be stunned.
Known AllipsEdit
The Mighty Nein encountered an allip version of Siff Duthar in his Abandoned Research Facility.[10]
ReferencesEdit
Community content is available under
CC-BY-SA
unless otherwise noted.