"A Game of Names" (2x49) is the forty-ninth episode of the second campaign of Critical Role. Reeling from their discovery, the Mighty Nein come clean with each other about aspects of their past..
Synopsis Edit
Previously on Critical Role Edit
"So, last we left off: The Mighty Nein had been returning from Nicodranas. They had made their way northward from the Menagerie Coast, left their ship in the care of their favorite tortle - to earn money at sea while you were away.
"You made your way northward, past the Wuyun Gorge, back into the Dwendalian Empire. Passed through Trostenwald and Alfield - and met up with Bryce for a bit to catch up - and then made your way towards Felderwin.
"Upon arriving, you discovered the city was still visibly scarred from the recent assault that it seemed to suffer at the hands of the Kryn Dynasty from Xhorhas. Upon perusing the streets, you came to discover that the location that Nott was leading you towards was in ashes - this apothecary.
"Upon inspecting the vicinity, you did not find a body, but you did find a basement where you found ruined furniture, a few traps, a chest, and a mysterious chair that has grabbed the nation's imagination! (You thought the gazebo was bad.)
"However, you also found that apparently the person who previously lived there was nowhere to be found and the son of that individual was being held at a nearby home of another person who lives here in Felderwin.
"You went there with Nott. Nott took the form of a halfling, and proceeded to speak to this child as...her son. And after an interesting bit of conversation and curiosity, said goodbye and you turned to find these two powerful magic-users - that Caleb had identified as members of the Cerberus Assembly - were walking their way towards the ashen ruins of the apothecary, deep in conversation..."
The Mighty Nein is currently a few houses down from the apothecary at Old Edith's house, as Lady Vess DeRogna and Martinet Ludinus De'leth walking up to the apothecary and stopping right at the cusp, talking to each other. Caleb urges the party that they need to go...right now! Nott agrees they should get off the streets. Nott informs them of a river near Felderwin, and she leads the rest of the party and the cart to a spot that she knows along the riverbank of the Sember River. They scoot in a southwestern arc to avoid the Archmages entirely, arriving at the river fifteen minutes later.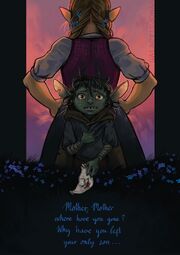 Nott told the party what happened to her in Felderwin. She was not born as a goblin. She was born as a halfling woman named Veth. Caleb then reveals that he was born as Bren Aldric Ermendrud, only using Caleb Widogast as a name from the time he met Nott onwards.
The next morning, waking up in the Goldfield Tavern and Lodge, Caduceus tells the rest of the party that there is an opening past the blocked portion of the tunnel. He thinks it might be possible to dig past and get to the other side. The Mighty Nein tries to plot their next course of action. Beauregard suggests that maybe the Xhorhasian drow might not be the bad guys here. Nott wants to ally with the Kryn to attack or infiltrate Rexxentrum, where Yeza would likely be held captive by the Cerberus Assembly. Fjord believes that the Kryn were responsible, and might have already killed him. Nott insists that they don't know whether or not Yeza is dead, or who was really responsible for taking him. Beau suggests it might have been a false flag attack: that the Rexxentrum mages disguised themselves as Kryn and burned Felderwin to cover their tracks? Caleb reminds the party that Rexxentrum is the largest city in the Dwendalian Empire, and (though not heavily fortified) it would be hard to attack. Fjord and Jester point out that the Kryn have their "pet worms", but Caduceus counters why they haven't attacked the Dwendalian capital already with that tactic? Fjord theorizes that the attack on Felderwin might have been a trial run for a larger assault. Beau feels like there are few places in the Empire that are off-limits to Xhorhasian attack. Fjord adds that it would be easier to take your enemy's capital if you could slow them down first with the apparent Dunamancy of the Xhorhasian beacons.
Caduceus asks if they want to try experimenting on the beacon using the knowledge they acquired at the apothecary? Fjord wants to get
Luke
out of town first, and then investigate the tunnel. After all that is done, they can start poking at the beacon in their possession.
Jester
reminds both Fjord and Caduceus that
Yussah
said not to have the beacon out in the open...especially right now, if people are going to be looking for it. Beau agrees that they definitely shouldn't poke at the beacon. Caduceus will go with whatever the group decides, but he states that when he left the
Blooming Grove
, he had been out of options...now he's found some options. Beau asks what exactly has been happening to the Blooming Grove? When Caduceus last spoke about it, he said that the "life force was being sucked away"? Caduceus explains that it's been happening for awhile:
the corrupted forest
that surrounds his home is beginning to overtake his graves and his home. There are other graveyards, but Caduceus and his family never really communicate with them, so he's not sure if it's happening anywhere else too. Caduceus's family is supposed to protect the Blooming Grove and Caduceus had run out of ideas by the time the Mighty Nein arrived. Everyone else in his family had already left to find answers, and Caduceus was the last to leave. Beau asks if Caduceus has ever asked
the Wildmother
for word on how his family is doing? Caduceus is confident that she will let him know if he needs to know, because he worries that they're all dead or worse and "that's not an answer [he needs] right now". He saw the Mighty Nein as a sign that he needed to take some responsibility and fulfill his duty to save his home.
Featured Characters Edit
Geordan
D'jay
Dupont Riggsman
Returning Edit
Mentioned Edit
Inventory Edit
| Adjustment | Count | Item | Source | Destination | Notes |
| --- | --- | --- | --- | --- | --- |
| | | | | | |
Quotations Edit
Nott (explaining her past as Veth Brenatto): "Okay...well, hi. Um, my name is 'Nott the Brave' and I am a little goblin girl...but...once upon a time...I...was Veth. A young halfling woman. And...before that...a, uh, halfling child...who grew up, um, being told...being told that she was not pretty, and not brave, and not coordinated, and not smart, and just...not."
Wife of the goblin leader: "Make her suffer!"
Nott (about her transformation into a goblin): "They made me everything...that I thought I was: not pretty...not good...just Nott."
Jester (Sending spell to Bryce): "Hello. It's Jester. Two people incoming. A woman and child. Take care of them, please? We're sending money with them. This is important. Please help!"
Caleb (confessing to the party): "I have been using you all...um...I-I-I...I am from Rexxentrum. I attended the Soltryce Academy. And, um...I-I-I was plucked by one of the Cerberus Assembly...with a few others and, uh...was being trained to do the kinds of things that I fear may have been done to..."
Caleb: "I'm not a very good person..."
Beau (reaffirming the party's belief in Caleb): "Don't run. You can say that you don't believe in anything, and that's fine. Believe in us, just a little bit?"
Fjord (proposing a plan to separate and ambush the archmages): "Right, well what about the one that studies history? You met a bunch of really 'dangerous' historians?!?"
Beau (a Monk of the Cobalt Soul): "Yeah. Yeah, I have."
Marisha and Matthew (singing): "Secret tunnel! Secret tunnel!" [reference to "Avatar: The Last Airbender"]
Beau: "The Mighty Nein...made of seven people...works great."
Nott (after the party comes across an underground river): "Guys...there's no one I would rather go rescue my husband with..."
The spell used to turn Veth the halfling into Nott the goblin was likely Reincarnate: a 5th-level Druid-exclusive transmutation spell (implying that the person who transformed Veth was at least a level 9 Druid).[1][2] The magic that Nott likely seeks from Caleb to turn her back into a halfling is Wish, a 9th-level transmutation spell. The 9th-level transmutation spell True Polymorph, might also be used to temporarily transform Nott back into a halfling until it's dispelled. However, True Polymorph has a short duration (1 hour) and is not a permanent effect. The transformation ends if the target drops to 0 hit points or dies. The effects of True Polymorph may last only until dispelled while never truly becoming permanent if the caster concentrates on the spell for the duration (1 hour).[3]
Both Caleb and Fjord could gain the ability to transform Nott back into a halfling if they reach level 17 in their respective classes. However a transformation using True Polymorph could be dispelled whereas a carefully phrased Wish spell could likely only be undone by another Wish.

When Caleb gains a wizard level, he can add two Wizard spells of a level for which he has spell slots to his spell book.[4] At level 17, he would have access to a 9th-level spell slot.[5] As both True Polymorph and Wish are Wizard spells[6], Caleb could add one or both of those spells to his spellbook.

When Nott reveals that she and her husband were saving for a honeymoon trip, she reveals that she wanted to go to Tal'Dorei (and possibly visit the city of Whitestone), Caduceus makes a derisive joke that Whitestone is "A tourist trap".[9] This was a joking jab at Campaign 1, where Taliesin played the one of the ruling nobles of Whitestone (Percival de Rolo).
The Mighty Nein reach level 8 at the end of this episode.
References Edit
Art: